Paris Fashion Week is currently underway, and Madelaine Petsch is in attendance. The Riverdale actor recently shared a tonne of behind-the-scenes photos, including a free-the-nipple moment, proving she's having a great time.
Madelaine shared numerous photographs of herself donning a pink tweed Givenchy suit in a hotel on Instagram, and they're kind of everything. The 28-year-old opens her cropped jacket to expose an extremely sheer turtleneck with her nipples peeking through and her powerful abs on full display in the first photo. The second image shows Madelaine reclining on a bed to show off the suit's high-slit skirt and toned legs.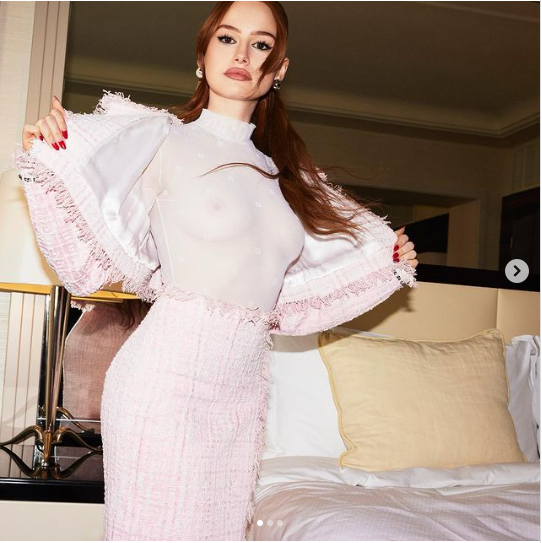 In the last image, Madelaine poses in an elevator to show off the full effect of the outfit.
"Oops @givenchy," she captioned the photo. People were all on it in the comments, as expected. "Wow, I loooove this look," Ashley Greene exclaimed, adding that Madelaine's Riverdale co-star Camila Mendes would "never recover."
Madelaine also tweeted a video of herself backstage at the performance and sitting waiting for the concert to begin, as well as a photo of herself at the show, indicating that she was certainly feeling this look.